We hereby present second hand equipment here.
Usually machines come to us in settlement, when the customer change his device into a newer model. Each machine is inspected by us and revised. We exchange used components for new ones. We provide a two-year warranty.
At this moment the following equipment is available:
1.Automatic carpet drying rack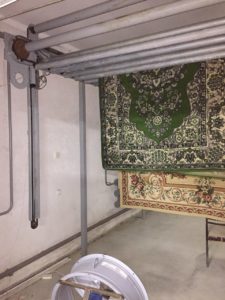 Machine has been designed in order to maximize the utilization of the space available for drying of the carpets in the laundry facility as well as to ease the handling of the drying carpets. The wet carpets are by the single push of a button automatically uploaded at one end of the drying rack and downloaded at the other end after drying.
The drying rack, which is typically mounted in a dedicated carpet drying room, consists of a number of mechanically ascending/descending and horizontally moving bars (carpet hangers). The carpet hangers are suspended from a conveyer system, which is supported by a floor or ceiling mounted steel structure.
Depending on the room and needs, the drying rack can be equipped with two lifts to hang the carpets on the steel bars. If one lift is mounted, the first carpet hanged up is lifted down at the same end. If two lifts are mounted, the first carpet hanged up is lifted down also as the first one.
Model: Catinet TE -11
Year of manufacturing: 2015
2 lifts, floor mounted columns
Carpet hanger length (maximum carpet width): 365 cm
Drying rack height: 295 cm
Capacity: 55 bars, 110 carpets (2x3m)
Voltage: 400V
Power: 1kW
Net price: 12 000 EUR excl. delivery and assambling
Video presentation: https://www.youtube.com/watch?v=IoL6t95US4U
2.Automatic multifunctional carpet cleaning machine TOTAL 2.5 
Machine, which has 3 basic functions that provide professional carpet cleaning: beating, washing and wringing. The combination of these fundamental functions in one device saves space required for cleaning by 50% compared to the conventional method. Work is done comfortably as all activities associated with movements a carpet are limited to a minimum. Thanks to this productivity is rising. The device has a water recirculation system, which reduces water consumption and contributes to environmental protection. Working with the device is safe, because the machine is designed so that it can minimize the leakage of water on the floor. Thanks to its small size, and emitting low noise, machine can be set up at a shop located on the ground floor of an apartment block or tenement house.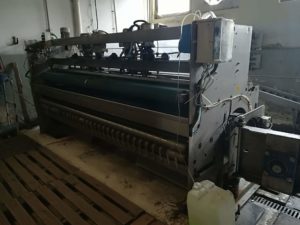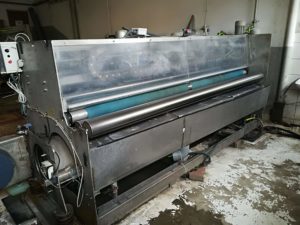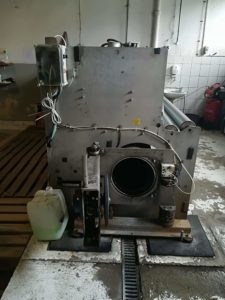 Model: Catinet TOTAL 2.5
Year of manufacturing: 2010
Maximum carpet width: 280cm (duster & washer) 300 cm (centrifuge)
Water recycling system: YES
Number of brush: 4 soft + 4 hard
Productivity: 55m2 an hour
Voltage: 400V
Power: 10kW
Net price: 17 000 EUR excl. delivery.
If you have not found a machine you wanted, please contact us on: info@carpetwashingmachines.com, phone: +48607299345.