Download a brochure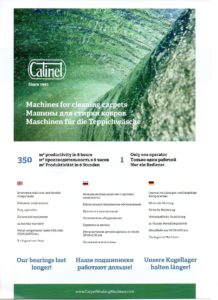 The usage of PO-300 SIMPLE gives you the opportunity of:
a significant increase in a quality of service,
beating a carpet of 3m width and any length,
reduction in time of cleaning process,
space savings as machine occupies less than 4m2 of area.
Catinet low-cost automatic dust remover machine PO-300 SIMPLE removes dust, sand and other loose obstacles remaining deeply in a carpet. The removal of dust and other impurities is a key element of the carpet washing process.
Rotary horizontal cylinders cause vibration. Their aim is to extract from the carpet outstanding dust and other impurities, which are removed by a powerful suction system. The impact on the carpet is adapted to the type of a carpet and removes impurities even from very delicate carpets. After the completion of the entire process of beating, the machine automatically rolls up the carpet.
Automatic dust remover machines allow to perform tedious operation on a small surface. This type of a carpet cleaning machine provides high-quality beating level of a carpet with any length.
Features:
Free standing,
Possibility of setting up next to the wall,
Carpet beating of several carpets at the same time,
Carpet speed regulation,
Forward/backward carpet feed,
Regulation of carpet beating frequency (delicate carpets),
Automatic carpet rolling (a carpet does 'not escape' on the floor),
Beated carpet does not have a contact with sand again,
High power extractor eliminates dust and sand. This eliminates the need for frequent cleaning of the trough,
High quality and durability of materials ensures reliable and long operation.
Required installations:
Electrical installation 400V/50Hz/3